Our swimming Lesson is now available in Kuala Lumpur, Selangor, Penang, Johor & Melaka.
Why Should You Learn Swimming With Swim Malaysia?
Since 2007, we have successfully equipped more than 10,000 students with proper swimming skills. All our swimming instructors are professionally trained by Swimming Teachers' Association & AUSTSWIM who uses effective and efficient teaching technique to guide students. This ensure technique and knowledge imparted properly with fun & joy elements.
When Are Lessons Conducted?
With Swim Malaysia, you get to decide on your own preferred day and timing, depending on the availability of our instructors as well. We will try our best to cater to your schedule to meet your needs.
Where Are Lessons Conducted?
We do conduct lessons at various public swimming pools. We can also have the lessons conducted at the comfort of your home (Condo or landed property) provided you have access to a swimming pool.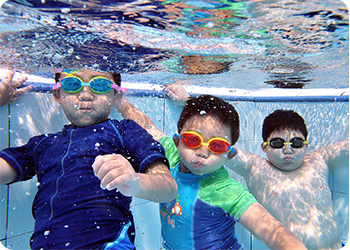 Swimming is a lifetime skill that can bring enjoyment and safety when you need it. Anybody who puts in effort in learning to swim will eventually pick up the skill. We do our best to bring swimming lessons to as many as possible.
Our swimming classes are all conducted in Kuala Lumpur, Petaling Jaya, Johor Bahru & Penang. No matter if you need a lesson for young infants of 6 months or all the way to adults and even senior citizens, we will customise swim program to suit individual needs. It doesn't matter if you are male or female, in a family or alone, water phobic or not. As long as you are eager to pick up the swimming skill, we believe that we will be able to assist you.
Just wanted to say thank you for teaching my baby boy how to swim. It was an unforgettable experience for both of us. As a mom I felt very comfortable during the classes because everything was done at the right time without pressure. I would highly recommend Swim Malaysia as the first swimming school for your kids.
Alex is an excellent coach! Very patient, gentle & fun which makes him great with children! My daughters who have always loved the water are confident swimmers today, because of him!
"Swim Malaysia was very professional when scheduling an instructor for us and arranging the logistics, even accounting for our pretty tight schedule. Edward our instructor was amazing. He was patient and took us step by step from the beginning until we were able to swim free style. We started as complete beginners but with Edward's instruction we were able to swim well and were confident enough to swim in open water to get our diving license. We definitely recommend Edward and Swim Malaysia for swim classes."
The coach, James is very patient with the kids and able to communicate the basics of swimming through children stories and games.
Now both of my kids are confident in the water and it gives us a peace of mind that we have given our kids a valuable tool that could save their life!! Skill that will stay with them for a long time. Keep up the good work!!